Staying Sane Working from Home, or How Not to Go Nuts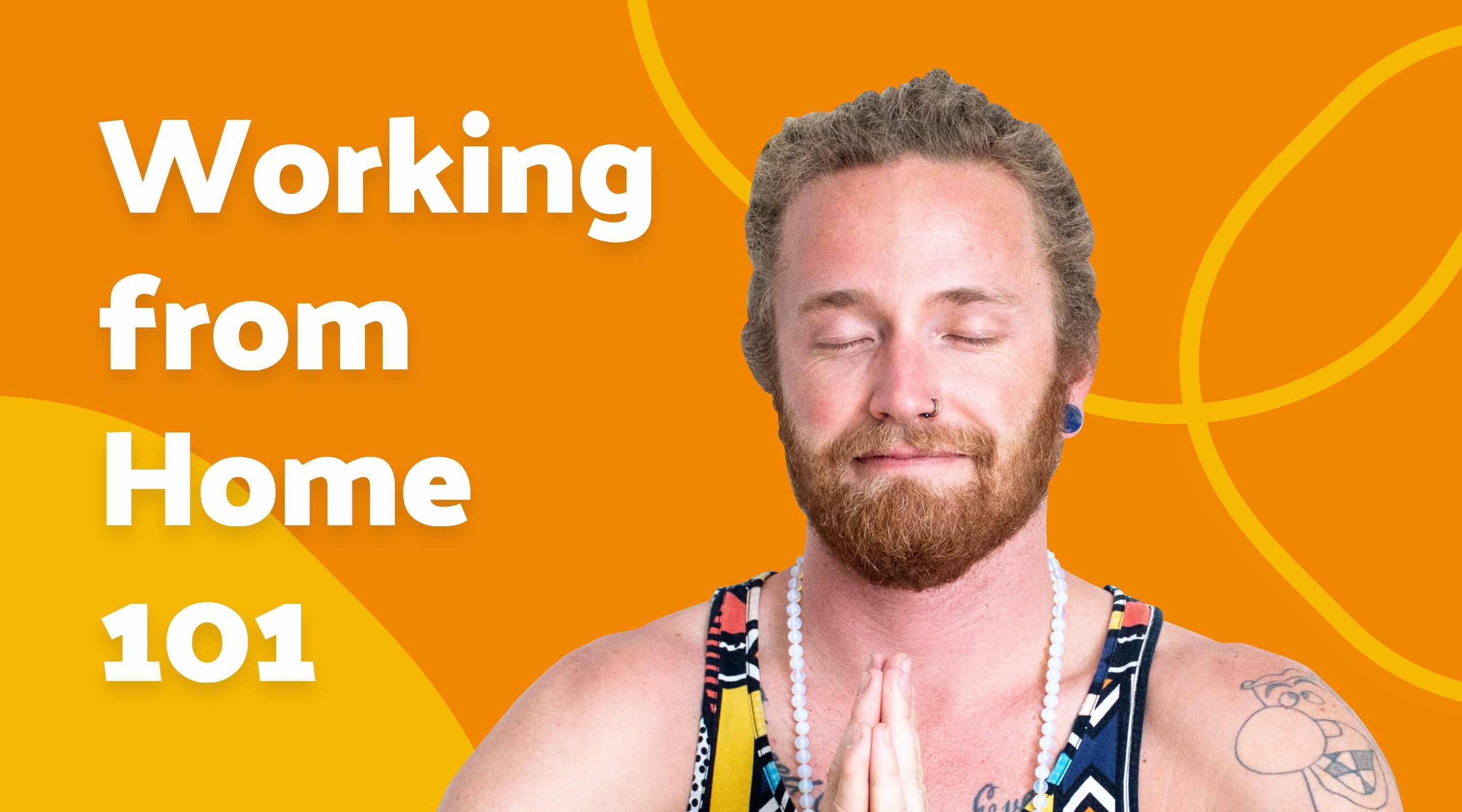 Staying at home all day can be frustrating, to say the least, the lack of movement and real human interaction can take its toll on our mental well-being. In a time like that, it seems like we tend to over-communicate via instant-messaging apps, which results in a short attention span, inability to focus during work hours and finding it hard to relax during the off-work hours.
There may be a few reasons why we find ourselves glued to our devices 24/7: one of them could be that we're missing that office banter and, maybe even, slacking off in the office kitchen chit-chatting and tasting that honey sweet-sweet talk; or that sometimes we find ourselves over-communicating because we desperately want to look busy and having to prove that we're actually working, as if there is a need to dispel that suspicion.
We also save time by not having to do our daily commute, but I've realised that I'm working even longer hours — co-workers keep texting me even after my work has finished. I had to decide what matters and what doesn't and then make my own priorities to feel less stressed. After some experimentation and after reading many articles online, I figured out the way of how to be more productive, not go crazy and maybe even enjoy this time of quarantine.
So let's see what works for me…
⏱ Rule #1: Set Clear Boundaries
Before work
Robert Iger — the Disney CEO tells us that he gets up at 4:45 am (OK, we don't need to do that) and does his exercise before he checks his emails.
'I also make sure that I don't look at any emails before I work out. Because if I do so, that tends to distract me and, at times, can really be mood changing in nature. And I need that time to be kind of cleansed of too many external forces or influences so that I can really have clarity of thought.'
This helps him to 'set up' for the day and only then to emerge fully into the tasks. And, you know what, I might have sneaked his idea in, but it is a good routine to organise one's thoughts.
After work
Yes, I know it's hard not to check emails after you've finished for the day, but that's the only way to become fully present in life outside of work. As soon as your status in Slack or Google Chat or any other communication tool is 'do not disturb' or shows that you're not online 💤 — your colleagues won't ping you that much. Trust me, setting boundaries not just for your colleagues, but most importantly for yourself is good in the long run.
This quarantine showed us that most of the work can be done distantly. Office is not as required as we thought it to be. If you dive into remote work statistics, you will find that in the United States there was 159% increase in people who are working remotely from 2005-2017 according to Global Workplace Analytics. They also discovered that 80% wanted to work from home from time to time. This is especially true for millennials, who value salary, flexibility, work schedules and location. Therefore, remote working, video conferencing, virtual hiring and flexible hours will shape the future of work.
So how do I stay productive while working from home, you'd ask? 🤷‍♀️
Well, in the book I Know How She Does It: How Successful Women Make the Most of Their Time, Laura Vanderkam has a different approach than 'do it better and faster so you can fit more in'. She says:
'There are 168 hrs/ week — if you work 50 hours and sleep 8 hours a night (which is 56 hours of sleep in total) that leaves us with 62 hours for other things. Now if you work 60 hours and 8 hours a night, you get at least 52 hours for other things.'

Don't just look at how little you can accomplish on any given day, but also it's more encouraging to see what you can do in the span of the week.
It made me analyse the way I spend my time similarly to the way I do my money expenses (⌛= 💸). Now, I make sure that time is being spent according to my goals and values: I can be more intentional with it — both with family and with work, especially when working from home. If I list everything I have to do during the day, I can fit it into a few hours and I just need distraction-free time to do it. Interruptions are a big problem people face when working from home. Sometimes, I feel like I'm getting interrupted every 15 minutes by notifications, housemate or even pets. Sounds familiar? Of course, I can never get into any 'flow', especially when I'm doing multiple things at once — like watching a webinar while cooking.
In her book Overwhelmed: Work, Love, and Pray When No One has the Time Bridgit Shulte says that 'living in technological haze leads to mental exhaustion'.
Digidays are our 'new normal' and we all have to embrace it during COVID-19.
Ultimately, in her book, Shulte says that we should 'chunk' our time and work in shorter and concentrated blocks and check our emails less and take a moment to pray or to meditate. Can't agree anymore… 🧘‍♀️
Time is the most precious thing that we have and we just need to recognize and appreciate it. Block your time. Or make yourself available.
💬 Rule #2: Communication
Different people handle social distancing in their own way and that's why it's important to have a better understanding of the personalities that you're working with via FaceTime or Zoom. When I'm talking to my colleagues, I try to define their type of personality using the DISC model to make sure my message gets delivered in the right way.
Do you have one person on the team who takes time, but is detail-oriented? Or maybe someone who's super chatty, but misses deadlines? Well, that's because people have different personalities and there is always an approach to making the relationship work even if it is at a distance.
Here are the main types based on the DISC theory of psychologist William Moulton Marston:
💼 D for Dominance: being competitive, direct and getting the results done and expecting action fast
💛 I for Influence: they're usually friendly, influential and motivate people to act in ways that are meaningful to them.
👂 S for Steadiness — persistent, good listeners who are always concentrating on their work.
✔️ C for Compliance — careful, systematic, always concentrating on details
Of course, it can be a combination of personality types, but one type stands out slightly. So how do you communicate with them virtually? Greg Skloot, President of Crystal — the DISC App tries to give some answers in his research:
'Communication with D types requires not to take anything personally and make sure to communicate in a clear and direct wayHow do best collaborate with I type? Socialise with them! It's important to keep them energised by communications via video or phone when possibleIf you're communicating with S type make an effort to offer help with anything they may needIf you're dealing with C type try to conduct communications via email an instant messages rather than through video calls'
You can pass your test and see the personalities in detail here. Following simple rules helps me to build better relationships with colleagues and work more productively.
💅🏻 Rule #3: Self-Care
Long story short: I'm scared to put on weight. And my friends are too. It's a big deal now: I have a kitchen full of snacks close by and in case I feel bored or distracted — snacks are my first option. So I've realised that planning not just main meals, but also snacks is the key to staying healthy… and, well, slim. Choosing healthy snacks like fruit, nuts or smoothies helps to reduce hunger and helps you stay in shape. Seriously, check out these healthy snack ideas to get inspired. Yummy!😋
Also, sitting for the whole day is not good for health. I've been sitting for 8 hours fully immersed in my work. However, a study by the NHS shows that sitting for long periods of time slows down metabolism, which affects the ability to break down sugars and body fat and other more scary consequences. And so I decided to follow that advice and start walking on my breaks — even a 15 min walk is not just better for your body, but it also helps to switch off and get back refreshed and feeling better about the day.
I've noticed that many people have started crafting, baking and exercising more — we have our commute time back, don't we? And so I think that we should keep up the momentum of the 'new normal'. It starts with investing in ourselves and prioritising our mental and physical well-being. This is also the time to check-in with ourselves and be honest.
Perhaps you've had something you've wanted to do for a while (it's OK for 'a while' to be five years)? Can you take a little techless weekend vacation? Maybe try to look at what's out there as opposed to what's on the screen. Practice mindfulness in little things: when doing crafts, baking, watching the sunset, or even while exercising. Staying mindful will remind us of the importance of living in the present — we should cherish our time here and now.
I've started writing a gratitude journal. That's how I take time to appreciate everything I've done and everything that I have in my life. You can also practice gratitude at least once a week — whatever works best for you. The goal of the exercise is to remember good events, experiences, people, and things in your life. Then take the time to enjoy the good emotions that come with the memory.
The Dalai Lama once has pointed out that a happy life 'is built on the foundation of a calm, stable state of mind. To reach that calmness one can practice meditation and gratitude.'Tell the people you love how important they are. Make a list of everything you should be grateful for. Get some much needed fresh air and take care of yourself. We all need some time to disconnect and recharge. Remember, even in isolation, there is beauty and, as you'll see, the seemed-unreachable goal of being productive and calm while working from home is actually closer than you think it is.
Author: Karina Zheliznyk, Content Marketing Specialist